Danish-owned Baltic Agro plans to route all grain purchased from Lithuanian farmers, around 500,000 tons, via Klaipeda starting with this year's season, LETA/BNS reported according to the daily Lietuvos Zinios.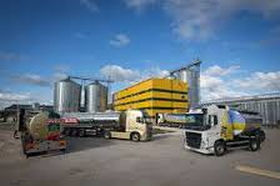 According to figures from Statistics Lithuania, the country's grain production totaled 5.7 mln tons in 2016.Baltic Agro CEO Arunas Bielskis says that the company has chosen a 60,000-cubic-meter storage complex that is currently being built by Bega as the main export point. Bega's investments in this stage of development amount to 8 mln euros, with 25 mln euros to be invested by the stevedoring company in the expansion of its agricultural and cement terminals over a period of three years.
The port of Klaipeda last year handled a total of 3.56 mln tons of various agricultural products, including 2.82 mln tons of export grain. Half of the amount was exported through Klaipedos Juru Kroviniu Kompanija (Klaipeda Stevedoring Company, or Klasco), which last year invested 10 mln euros in expanding its grain complex, and one-third via Bega's terminal.
A total of 5 companies handle grain shipments in the Klaipeda port. All of them are building new warehouses, another after another, with their investments linked to one or several key customers. However, around 0.5 mln tons of grain purchased in the northern part of Lithuania are exported via Latvian ports.